HemoPoint H2® DMS Hemoglobin Analyzer
The HemoPoint H2® DMS is discontinued as of July 2018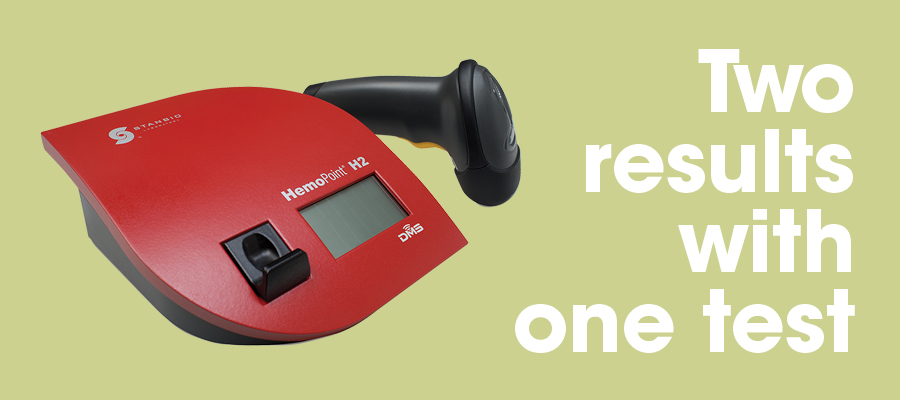 The HemoPoint® H2 DMS Hemoglobin Analyzer version adds the ability to quickly, securely, and automatically manage, access and even analyze your hemoglobin test results
To the many advantages of the HemoPoint® H2 Hemoglobin Analyzer, the new DMS version adds the ability to quickly, securely, and automatically manage, access, and even analyze the test results you've gathered.
The DMS software allows you to link seamlessly to a nearby computer. Data can then be sent to your Information Management System (IMS).
Such instant connectivity aids in the accuracy of patient records, future billing, and potential statistical analysis. With features like this and many others, the HemoPoint® H2 DMS Hemoglobin Analyzer points the way to care that is better and more cost effective.
Easy measurements in 3 steps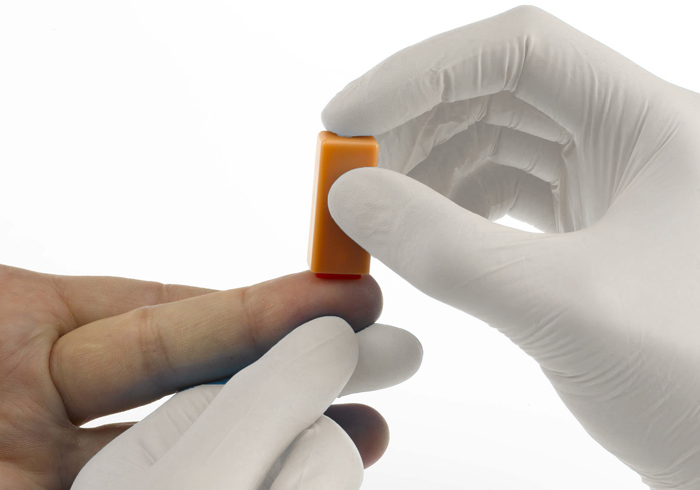 1.  Collect blood sample.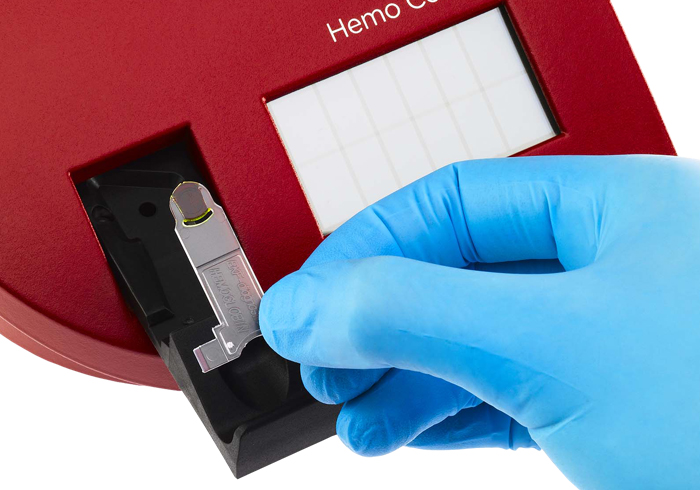 2.  Put microcuvette into analyzer.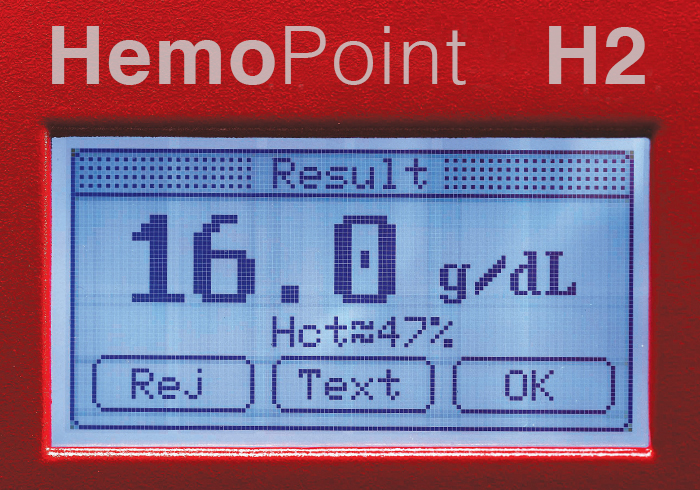 3. Result appears in 25-60 sec.
 Data Management Functions
Operator Identification/Lockout
Operator barcode identification ensures that only authorized persons can use the Hemoglobin Analyzer.
Patient Identification (PID)
Allows patient identification to be entered via the barcode reader.
Quality Control Lockout
This feature can be enabled by the HemoPoint® H2 DMS Hemoglobin Analyzer InterLink software to require preset quality control intervals on pre-defined QC materials.
Recall Past Results
Large memory for up to 4,000 patient results and 500 QC results
Microcuvette Check
This HemoPoint® H2 DMS user definable function can be configured to prohibit testing with expired or unregistered microcuvettes.
Urgent Sample (STAT) Capability
When urgent measurements are needed, the HemoPoint® H2 DMS Hemoglobin Analyzer is ready. With this option selected, it is possible to carry out testing without the usual patient ID, lab ID, or QC requests.
Ability to Add Comments
This function allows operator comments to be allocated to each patient and quality control result to explain errors.
Data Transfer
HemoPoint® H2 DMS Hemoglobin Analyzer communicates with your computer using an external USB Bluetooth® or cable connection.
Ordering Information – HemoPoint H2® DMS Hemoglobin Analyzer
Reference NumberPack Qty
| Description | Reference Number | Pack Qty |
| --- | --- | --- |
| HemoPoint® H2 DMS Analyzer | G3500-001 | 1 Each |
| HemoPoint® H2 DMS System | G3500-001SYS | 1 Each |
| Description | Reference Number | Pack Qty |
| --- | --- | --- |
| HemoPoint® H2 n.x.t Microcuvettes (100) | 3015-100 | 2 containers of 50 (100 tests) |
| HemoPoint® H2 n.x.t Microcuvettes (200) | 3015-200 | 4 containers of 50 (200 tests) |
| HemoPoint® H2 Microcuvettes (foil Wrapped) | 3025-050 | 1 carton of 50 tests |
| HemoPoint® H2 Bi-Level Hgb Controls | 3065-201 | 1 pack of 2 x 1.5 mL bottles |
| HemoPoint® H2 Bi-Level Hgb Controls | 3065-601 | 1 pack of 6 x 1.5 mL bottles |
| HemoPoint® H2 Optics Cleaner | 3050-005 | 5 Each |
| Description | Reference Number | Pack Qty |
| --- | --- | --- |
| HemoPoint® H2 DMS Docking Station | G3600-001 |  1 Each |
| HemoPoint® H2 DMS Mini-Keyboard | G3700-001 |  1 Each |
| HemoPoint® H2 DMS InterLink Software | G3750-001 |  1 Each |
| HemoPoint® H2 DMS Plastic Carrying Case | 3195-001 |  1 Each |
| HemoPoint® H2 DMS 3-Way Connecting Cable | G3900-001 |  1 Each |
| HemoPoint® H2 DMS Barcode Reader | G3850-001 |  1 Each |
| HemoPoint® H2 DMS Bluetooth® Dongle | G3800-001 |  1 Each |
| Thermal Printer, DPU-414 | G3250-001 |  1 Each |
| Printer, Power Adaptor | 3150-001 |  1 Each |
| Printer, Battery Pack | 3175-001 |  1 Each |
| Printer, Cable | 3172-001 |  1 Each |
Fast results in about 30 seconds
Intuitive touchscreen
No routine maintenance required
Integrated rechargeable battery
'Soft load' cuvette holder
CLIA waived
Specifications
Methodology – Azide methemoglobin
Principle – Photometric
Sample Type – Capillary, arterial or venous blood
Sample Size – 8 µl
Linearity – 0–20 g/dL: ±0.3 g/dL
Total Precision CV – <1.5 %
Analyzer system pack includes
Analyzer, user guide, power adaptor, barcode reader, Bluetooth® dongle, H2 DMS InterLink Software, H2 DMS InterLink Software user guide, barcode chart, quick guide, optics cleaner and wall chart
Frequently asked questions