QuPID® hCG pregnancy test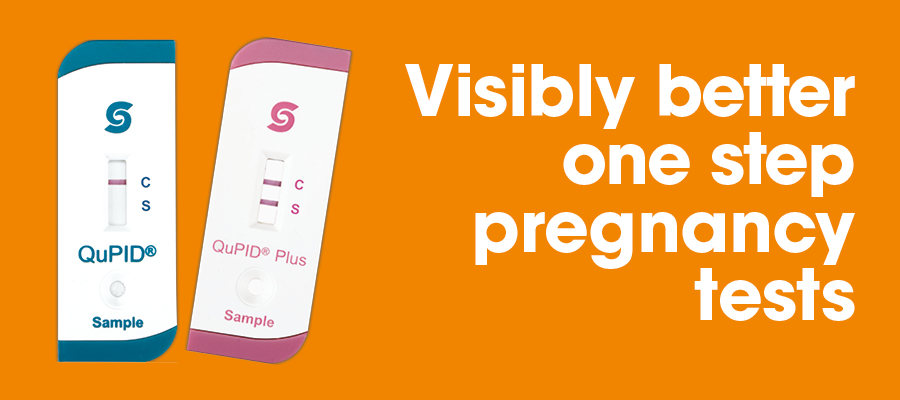 Key features
Fast Positive results may be seen in as little as 10 seconds.
Flexible Gives you the option to test urine or serum with increased sensitivity.
Excellent Readability Stanbio's quick-clearing background ensures easy to interpret test results, minimizing the need for re-testing.
Complete Each hCG test cassette package is labeled with instructions and includes disposable dropper.
Reliable >99% accurate. >99% specific.
Our QuPID® hCG test range is the visibly better one-step pregnancy test
QuPID® and QuPID® Plus are single step cassette platforms for urine or urine/serum pregnancy testing. QuPID's quick-clearing background ensures test results that are easy to interpret, minimizing the need for re-testing even with low level specimens.
CLIA waived when testing urine samples, each test cassette package is pouched, labelled with instructions and includes a disposable dropper. QuPID® Pregnancy Tests and QuPID Plus require only two drops of sample and provide results in three minutes (urine) and five minutes (serum). Both formats are more than 99 % accurate and specific.
QuPID® sensitivity: 20 mIU/mL hCG in urine.
QuPID® Plus sensitivity: 10 mIU/mL hCG in serum and 20 mIU/mL in urine.
This hCG test is available in pack sizes of 25 and 50 pregnancy tests. hCG bi-level and tri-level controls for urine and serum are also available in 5 mL sets.
All products in the range are proven to ensure greater than 99% accuracy and specificity.
| Product | Size | Reference No. | Specimen Type | Sensitivity |
| --- | --- | --- | --- | --- |
| QuPID® hCG Test (Set of 25) | 25 Tests | 1220-025 | Urine | 20 mlU/mL hCG |
| QuPID® hCG Test (Set of 50) | 50 Tests | 1220-050 | Urine | 20 mlU/mL hCG |
| QuPID® Plus hCG Test (Set of  25) | 25 Tests | 1230-025 | Urine or serum | 20 mIU/mL hCG in urine, 10 mIU/mL hCG in serum |
| QuPID® Plus hCG Test (Set of 50) | 50 Tests | 1230-050 | Urine or serum | 20 mIU/mL hCG in urine, 10 mIU/mL hCG in serum |
| hCG Bi-Level Urine Controls | 2 x 5mL | 1225-205 | Urine |  – |
| hCG Tri-Level Serum Controls | 3 x 5mL | 1235-305 | Serum |  – |