EKF Link: A flexible connectivity solution for POC
Connect all of your analyzers on one software platform
EKF Link is a middleware solution for healthcare providers to manage their Point of Care analyzers and the generated data on one centralized platform.
EKF Link is a flexible, open solution that can be interfaced to most vendor's Point of Care analyzer to permit the real-time management of data including patient test results, QC results, operator management and analyser configuration.
EKF Link enables the transfer of data from the analyzer to the hospital or laboratory database for subsequent processing.
EKF Link allows medical professionals to:
Maintain an electronic data repository for all point-of-care tests
Integrate patient test results with the laboratory or hospital information system
Maintain QC records for all analyzers
Perform a comprehensive search of all records
Print patient test reports
Record and track QC data
Manage operators and monitor compliance of device usage and device certifications
Provide a long-term storage system without the requirement for archiving
EKF Link provides hospitals, labs and GP with the functionality to manage and evaluate their patient and user data easily and securely.
EKF Link's key features are: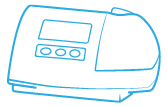 Instrument management
Use additional features of instrument (e.g. QC lockout)
Remote configuration

Report management
CSV and PDF
Personalized reports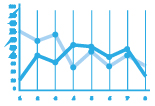 Test results and QC management


EKF Link is a flexible and open data management solution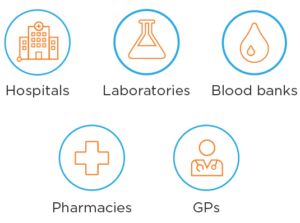 One solution for multiple situations
EKF Link has been designed by IT Solution engineers working alongside hospital POC Managers to provide users with a single, comprehensive yet flexible platform.
EKF Link's simple set-up, intuitive interface and user-friendly graphics enable effective utility in GP offices, pharmacies, laboratories, hospitals and blood banks. There are no barriers to where and how EKF Link can be implemented.
EKF Link can be installed on a PC (Windows or Apple) or a server allowing access to authorized users anywhere at any time.
Scaleable software
EKF Link has been designed to allow the addition of more analyzers as and when they are required. Link works with devices from other manufacturers as well as all those in the EKF range.
Upgrade today
EKF Link is available to connect any of the following EKF Diagnostics devices** to a LIMS or HIS/EMR: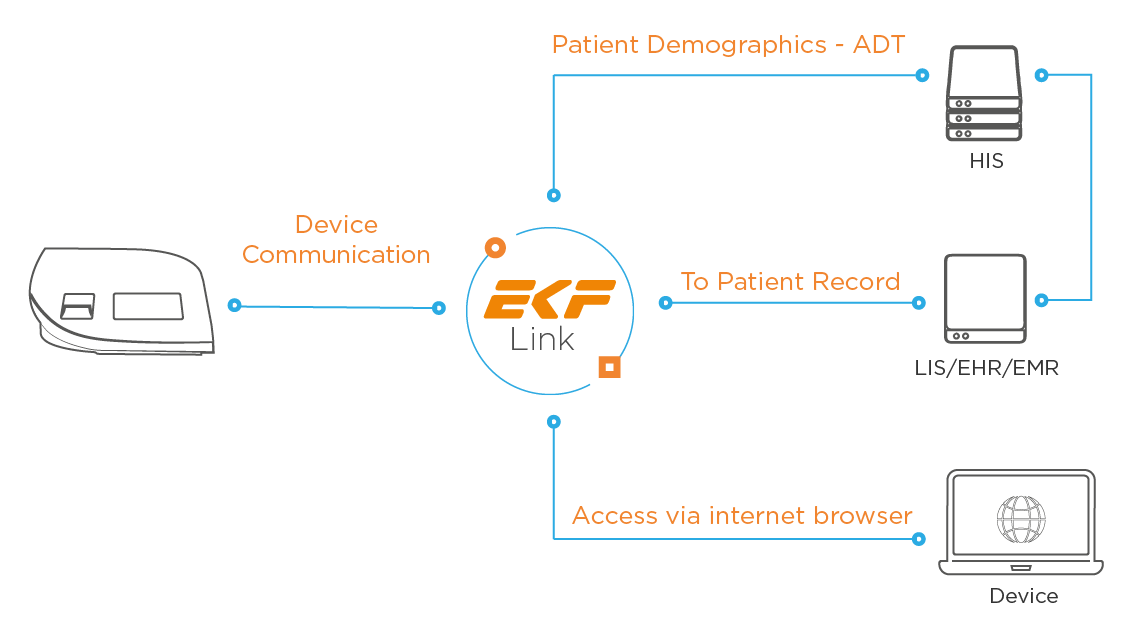 ** Not all products are available in all countries
Data for connected health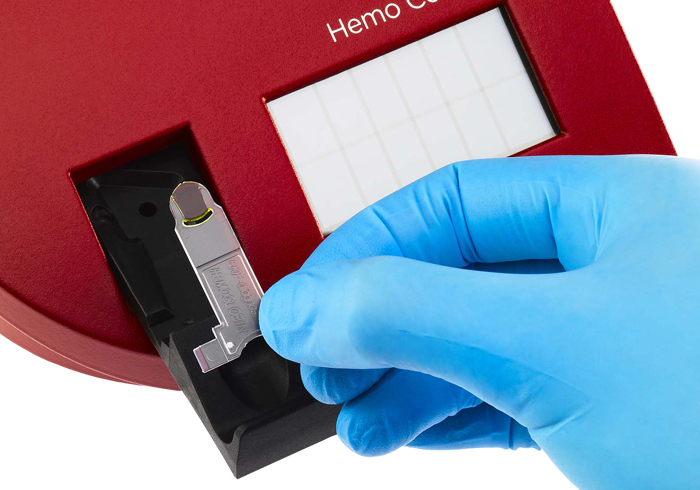 1. Perform a patient or QC test on an POC analyzer.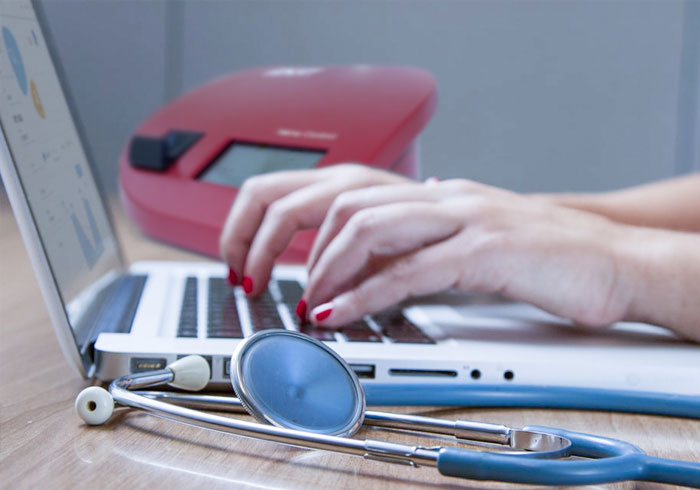 2. Upload and manage every patient's care pathway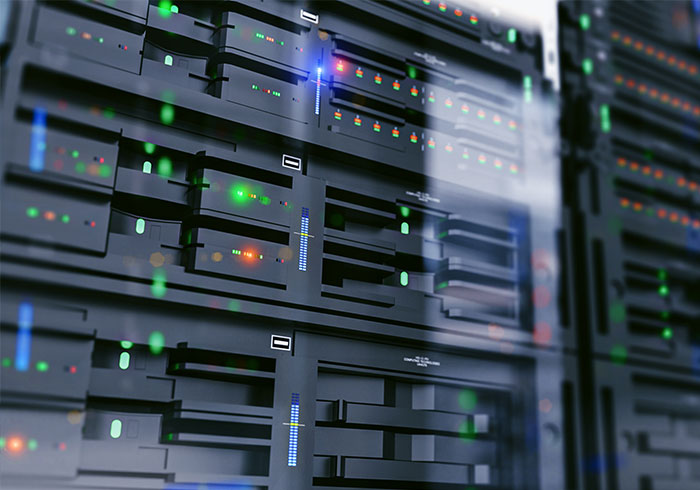 3. Send Patient and QC test results to a LIS, retrieve patient demographics
Power-up your Point of Care diagnostics
Give your Point of Care devices super powers by connecting them using EKF Link. With just a few clicks an analyzer can capture patient information, run QC, lock-out unauthorized users and send information into a LIMS system. And that's not all:
Configure all of your devices from a central location
Operator and report management functions
Automated transfer data minimizes the risk of transcription error
Standalone
Allows users to send test results with time stamp to LIMS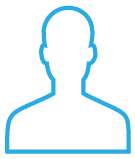 ID Management
Operator Management allowing only certified operators to use the analyser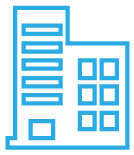 Instrument Management
Set instrument configuration remotely
Create and assign designated location to instrument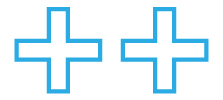 Other features include
Additional workflow available
Report management with the ability to create PDF and CSV reports
New connectivity features
Feature
Advantage
Safe and secure
Integrated Device Connector
Connect multiple Point of Care analyzers securely and easily to LIMS/EMR
Maximum flexibility
Advanced architecture
Host on your laptop or server. Your data, your choice!

Data is accessible from most web browser using security protocol without the need to install an additional module

Test integrity
Patient and QC management
Review tests in tables and charts
Check results
Add comments
Traceability
Operator management
Automatically lock out users who are not correctly certified to reduce the risk of errors and to meet strict regulatory and quality requirements
Visibility
Instrument management
Manage your analyzers remotely
Check the status of individual analyzers
Archive
Report management
Export test results as PDF or CSV files
'EKF Link is an outstanding data management system at Point Of Care in the Hospital setting. In our Trust we have connected a number of POCT devices and in turn safe guarding our staff and patients in line with MHRA guidance on the use of POCT devices.
EKF Link is easy to use and intuitive at every stage. All our connected POCT devices have IQC lock out predefined by POCT, lot number control of consumables & IQC material, barcoded operator ID's, patient demographics set as mandatory inputs at point of care.
All results are electronically transmitted from the device to EKF Link and takes are in place with the Trust to activate these in the electronic patient record. In the meantime the results are available to view in EKF Link in easy to use patient result screens, displaying graphs, all on a particular patient across all the devices and over the lifetime of the patient testing.
EKF Link has made life simple and easy at point of care and we are now exploring connecting 3rd party devices to the platform.'
---
Ms Terri Robinson BSc (Hons)
Specialist Biomedical Scientist – Point Of Care Testing Co-ordinator,
ULH Pan Trust