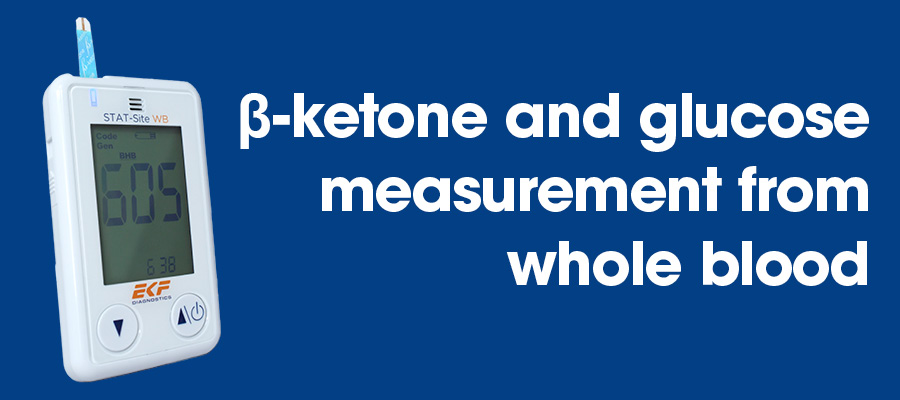 Reliable and efficient β-ketone and glucose measurement from whole blood
The STAT-Site® WB Dual Analyte Measurement System from EKF Diagnostics is used for the quantitative determination of β-ketones (Beta-Hydroxybutyrate or βHB) and glucose in capillary and venous blood. The STAT-Site® WB is intended for whole blood multiple-patient use in professional healthcare settings as an aid to monitor the effectiveness of a diabetes control program.
Diabetic patients with abnormally high levels of βHB are at risk of developing diabetic ketoacidosis (DKA). βHB is the predominant ketone body present in the blood during DKA. For this reason it is a more appropriate test than traditional nitroprusside reaction urine tests that do not measure βHB.
The STAT-Site® WB analyzer uses two different strips to provide results in just 10 seconds for β-ketones and 5 seconds for glucose allowing for clear and comprehensive management of diabetes patients displaying early signs of DKA to be quickly treated and then monitored on a regular basis.
Easy measurements in 3 steps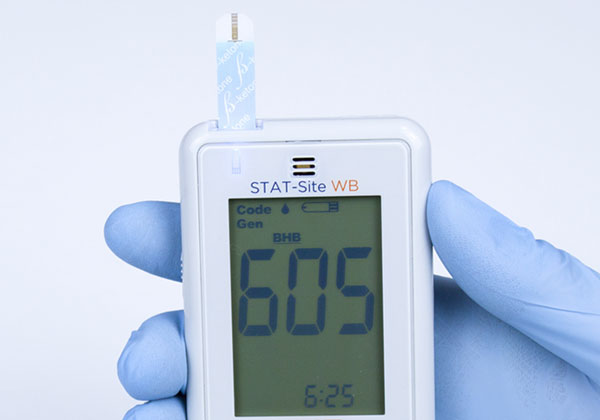 1. Insert test strip into the meter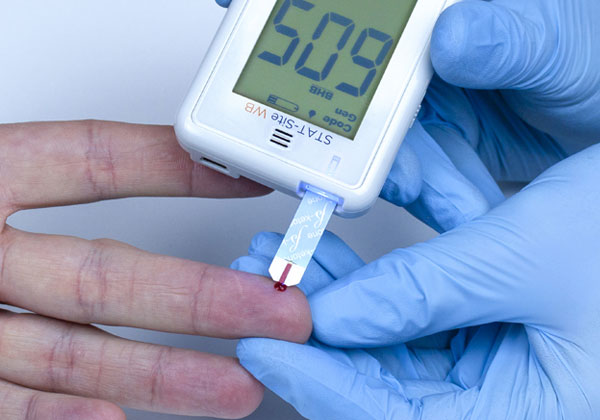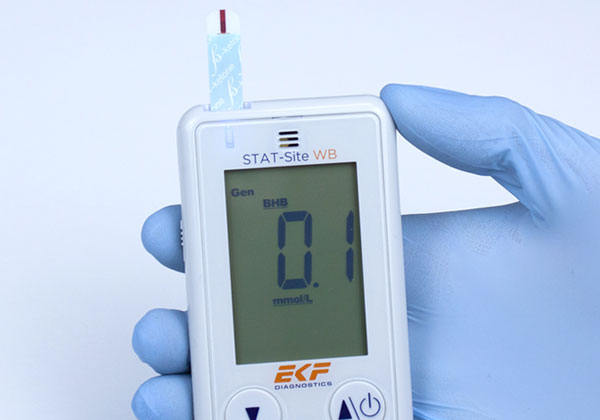 3. Result within 10 sec. for β-ketone and 5 sec. for glucose
Accurate with excellent linear range
Hematocrit range
β-ketone: 10 to 70%
Blood glucose: 20 to 70%
Measurement range
β-ketone: 0.1 to 8.0 mmol/L
Blood glucose: 10 to 600 mg/dL (0.5 to 33.3 mmol/L)
Fast and efficient sample handling
1 μL sample size capillary or venous whole blood
β-ketone result in 10 seconds
Glucose result in 5 seconds
| Description | Reference Number | Pack Qty |
| --- | --- | --- |
| STAT-Site® WB Meter | 7000-001 | 1 Each |
Description
Reference Number
Pack Qty
Blood Glucose Strip box
7010-025
25 pcs
Blood Glucose Strip box
7010-050
50 pcs
Blood Glucose Strip box foil pack
7010-100
100 pcs
β-Ketone Strip box
7020-025
25 pcs
β-Ketone box
7020-050
50 pcs
β-Ketone box foil pack
7020-100
100 pcs
Blood Glucose Control Solution
7014-204
1 x W2 (norm),
1 x B3 (high)
β-Ketone Control Solution
7024-204
1 x L1, 1 x L2
CLIA waived
β-ketone result in just 10 seconds
Glucose result in just 5 seconds
Handheld
Easy to use
Simple and intuitive
Auto start when the strip is inserted
Auto reaction time countdown
Auto switch-off after 3 minutes without action
Touch button to eject test strip
Two 1.5V AAA alkaline batteries
400 results stored on the system
Ergonomic design
Compact: 95.5 (l) x 57 (w) x 15 (h) mm, 58 g
Simple, large LCD screen interface