Lucica® Glycated Albumin-L
liquid reagent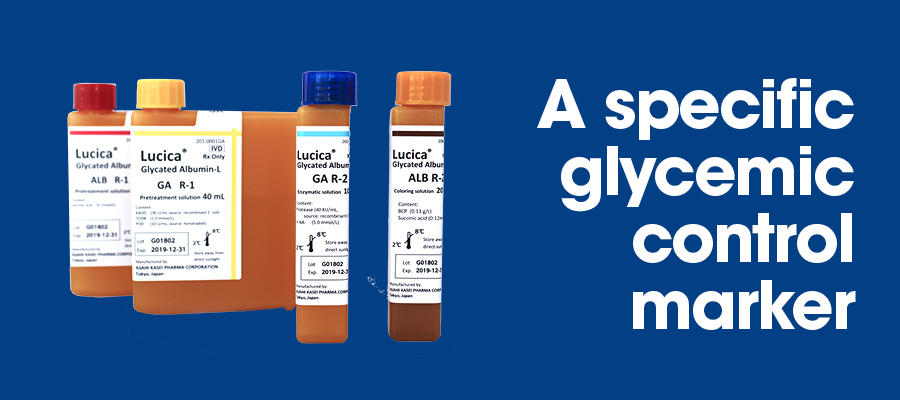 Key features
Specific for glycated albumin (GA)
Measures both glycated albumin and total albumin in separate reactions
Standarized to an established reference (JCCRM611)
Widely published method

Exclusive to EKF Diagnostics in the US
Lucica® Glycated Albumin-L can fill the gap between long-term and short-term glycemic control marker
The Lucica® method for Glycated Albumin (GA), manufactured by Asahi Kasei Pharma Corporation, is a specific test for GA that is now FDA cleared for sale in the U.S. The Lucica® test is distributed exclusively by EKF USA (former Stanbio). The Lucica® test is one of the most widely used and published GA methods worldwide.
What are the advantages of Glycated Albumin testing?
Lucica® Glycated Albumin-L is specific for GA. It does not measure other glycated proteins such as glycated immunoglobulins.
Measures both glycated albumin and total albumin in separate reactions.
Results are expressed as a ratio, thus minimizing differences in protein concentrations between patients.
Is standardized to an established reference (JCCRM611) via JSCC (Japan Society of Clinical Chemistry).
Over the last decade, numerous studies have been published utilizing the Lucica® methodology.
What is Glycated Albumin (GA)?
Albumin is the most abundant extracellular protein in the circulatory system. Albumin is involved primarily with regulation of osmotic pressure and as a carrier protein for hydrophobic molecules in the bloodstream including drugs, bile acids and free fatty acids. Albumin has a half-life (turnover) of approximately 21 days and is very sensitive to 'glycation' by glucose and other sugars in the blood.
GA differs from traditional fructosamine tests as it measures GA only.  In a fructosamine measurement the majority of the signal is due to GA (~66% of serum proteins is albumin). The remaining signal is comprised of other glycated globulins (~34%). There are numerous fructosamine methods available but these methods lack standardization and don't report results as a ratio.
How is Glycated Albumin formed?
Similar to other glycated proteins, albumin undergoes a non-enzymatic conversion (Maillard reaction) where glucose and other sugars react with amino terminal residues on the protein to form an unstable Schiff base. This molecule in the acyclic form can either reverse back to glucose and protein or undergo an Amidori arrangement to a stable molecule known as a GA.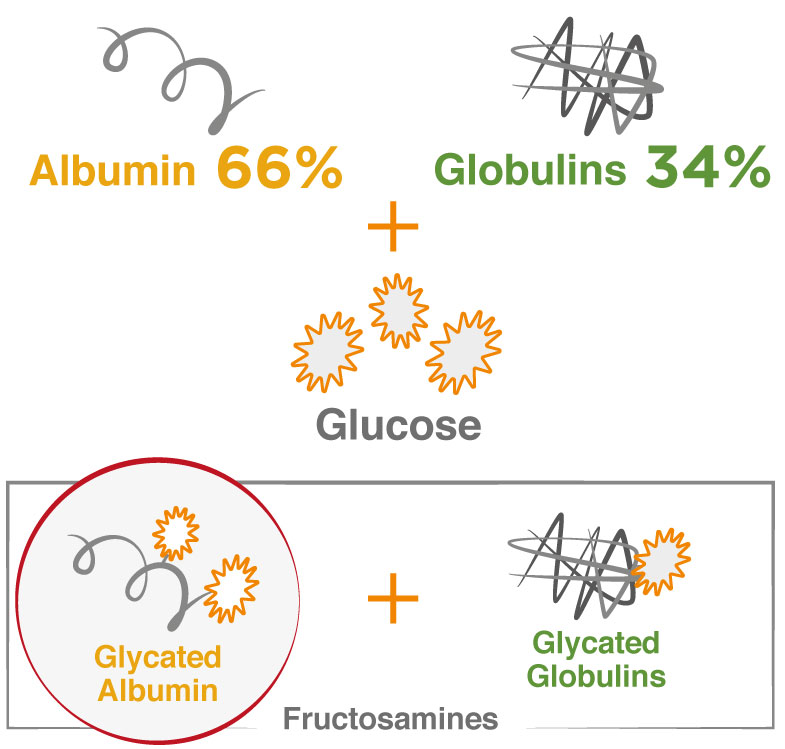 Principle of the Glycated Albumin test
The Lucica® test is performed on serum and consists of two steps: (1) an enzymatic assay for glycated albumin and (2) a test for total albumin via a Bromcresol Purple analysis or BCP. The GA value is calculated by dividing the GA concentration by the albumin concentration.
In the primary, enzymatic reaction, endogenous glycated amino acids are eliminated and the resulting GA is reacted with specific enzymes to produce a colorimetric signal at 546/700 nm.
In the total albumin reaction the sample reacts with the pretreatment solution to convert reduced albumin to oxidized albumin. The treated solution reacts with bromocresol purple (BCP) forming a blue conjugate of albumin and BCP. The absorbance of this blue conjugate is measured to quantify albumin concentration at 600/660 nm.
Calculation of glycated albumin (GA) value (mmol/mol)
The obtained glycated albumin concentration is divided by the albumin concentration thereby yielding the GA value (mmol/mol) of the sample.
The Lucica® test is performed as a user-defined assay on liquid based, chemistry analyzers that have 'open-channel' capability.
Elimination of glycated amino acid

Determination of glycated albumin

Determination of albumin

What is the Glycated Albumin intended use?
Lucica® is intended to be used for the quantitative measurement of glycated albumin in human serum on compatible clinical chemistry analyzers. The measurement of GA is useful for the intermediate term (preceding 2-3 weeks) monitoring of glycemic control in patients with diabetes. For in vitro diagnostic use only.
There is peer-reviewed literature supporting the use of glycated albumin (GA) as a good marker of glycemic control based on clinical outcomes for microvascular and macrovascular complications, diabetes risk, prognosis in hemodialysis patients and predicting pregnancy outcomes. GA has been shown to be useful for the intermediate term monitoring of glycemic control in patients with diabetes.
Microvascular complications
Studies involving collectively over 11,000 subjects in the U.S. and in China followed for 5 to 20 years revealed that GA is associated with the onset and progression of diabetic microvascular complications.
Macrovascular complications
Studies in the U.S., Japan, Korea and China involving collectively over 11,000 subjects revealed that GA is associated with vascular outcomes, atherosclerosis, poor prognosis and mortality