EKF Life Sciences manufactures diagnostic enzymes and contracted custom products for use in medical diagnostics, pharmaceuticals and industry.
EKF Life Sciences is based in Elkhart, Indiana and utilizes bacterial fermentation and downstream processes to isolate and deliver the highest quality enzymes and biomolecules specially engineered to our customers' specifications.
The fermentation facility is designed to produce micro-organisms including recombinant organisms for the manufacture of post-fermentation products such as enzymes, proteins and related biomaterials.
Our 21,000 sq.ft. manufacturing facility is ISO 13485:2016 certified with 12,000 square feet dedicated to fermentation production activities.
The plant routinely operates two segregated HEPA filtered fermentation suites with production vessels ranging from 40 liters to 1,600 liters.
In addition, downstream processing equipment includes two AS-16 Super Sharples centrifuges located in a clean, HEPA filtered processing suite, a microfiltration unit for cell harvesting, two cell homogenizers, freeze drying unit for product processing and liquid nitrogen storage for cell banking.
Core Capabilities
Pilot and small manufacturing
Bulk orders
Process development and optimization
Process transfer and scale up
cGMP documentation
Validation
Quality Assurance and Quality Control
Our commitment to you
Our team of experts work with early stage and mature processes to manufacture to ISO standards, and are committed to maintaining  these standards as well as unparalleled  customer service.
EKF Life Sciences manufactures enzymes and related biomolecules from bacterial fermentation since 1983
EKF Life Sciences services
Contract fermentation
EKF Life Sciences'  fermentation facilities are designed to produce microorganisms, including recombinant organisms, for clinically important enzymes and proteins used in many industrial applications. EKF Life Sciences enzymes are either sold in bulk or used in the production of in vitro diagnostic devices (IVDs).
Custom bioprocessing
Downstream processing applications are designed in order to address a multitude of client applications. EKF Life Sciences will work to customer specifications to produce a cell paste through various intermediary fractions to the final freeze drying of final product.
Diagnostic enzymes
EKF Life Sciences manufacture enzymes used in clinical diagnostic reagents. These include:
Arylacylamidase
β-Hydroxybutyrate Dehydrogenase
Salicylate Hydroxylase
These enzymes are used for the production Stanbio Chemistry branded reagents, OEM reagent production and are sold commercially for reagent production by third party clinical diagnostic companies.
Contract manufacturing
Leverage our extensive manufacturing capabilities and many years of experience to produce your own quality products. Our ISO 13485:2016 certified facility is conveniently located just 90 miles from Chicago in Elkhart, Indiana.
More than 30 years of service
EKF Life Sciences has been manufacturing enzymes and related biomolecules from bacterial fermentation for use in IVD since 1983.
Since then it has developed core competencies in technology transfer to commercialization, and the scale up of fermentation processes from bench top vessels to manufacturing large scale stable and reliable enzymes. These enzymes can be consistently produced in bulk scale for mass production of test kits.
With the continued development of microbial expression platforms and the expanding interest in medical and industrial applications for biologically produced intermediates and products, EKF Life Sciences serves as a critical link in the evolution of improved and environmentally sensitive manufacturing processes.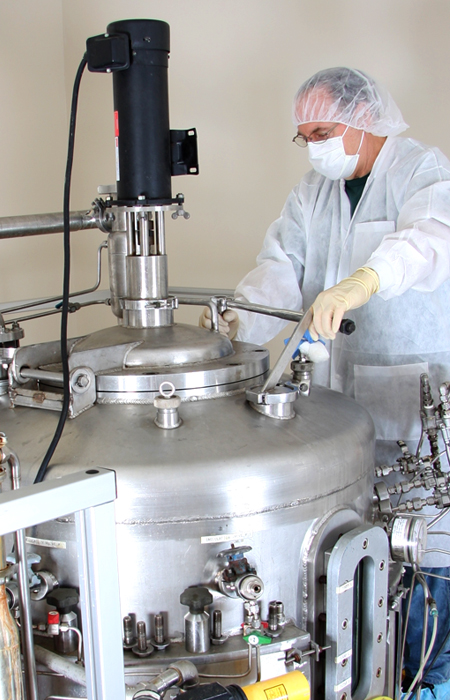 Decades of experience delivering the highest quality
Quality Assurance
EKF Life Sciences is committed to the development, manufacture, and delivery of quality products that meet or exceed customer expectations that are in accordance with FDA regulations and ISO 13485:2016 Standards (Medical Devices).
We are currently certified for ISO 13485:2016 and have a successful inspection track record since our initial certification to ISO 9001:1994 back in 1998.
EKF Life Sciences is also audited regularly by customers from various industries, and we work with them to meet their specific quality system requirements.
Quality Assurance responsibilities include:
Finished product disposition
Customer and regulatory audits
Internal audits
Deviation and CAPA systems
Vendor qualification
Change control
Training systems
Document control